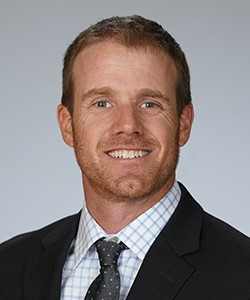 Timothy Mayo begins his second season as head baseball coach at Nichols College in 2020.

In his first season on the bench at Nichols, the Bison won 21 games – the fourth-highest mark in program history – and returned to the Commonwealth Coast Conference (CCC) playoffs following a one-year hiatus. The Bison set single-season records for home runs (24) and earned run average (ERA) (3.77), while placing second in doubles (78), fourth in stolen bases (69) and hits (391), fifth in RBI (212), and sixth in runs (240) in program history. Five student-athletes were named to the all-conference team: Christian Naccari (First Team), Kyle Bouchard (Second Team), Joe Assenza (Second Team), Nathaniel Cormier (Third Team), and Brendan Duffy (Second Team); Duffy was also named CCC Rookie of the Year. Four student-athletes garnered CCC Academic All-Conference honors.

Mayo had spent the last three years at Trinity (CT) College as a full-time assistant coach and recruiting coordinator (2016-18), helping the Bantams to a 57-50 record during that span (2016-18) and an appearance in the New England Small College Athletic Conference (NESCAC) Championship game in 2016. Mayo recruited at both the regional and national level, created detailed daily practice plans, and managed all aspects of alumni relations, including reunion, network nights, and donations.

Mayo is also the founder and owner of Dream Bat Company, which was created in 2005 and has produced bats used by many current professional players, most notable A.J. Pollack of the Arizona Diamondbacks. Mayo began making bats in his basement and garage when he was coaching the Holyoke Giants, and used his players to test them. Dream Bat served as the official bat of the New England Collegiate Baseball League (NECBL) from 2011-14 and the Futures Collegiate Baseball League (FCBL) from 2010-12. They currently have two factories which produce the bats, which are sold at various stores and hitting facilities in the region.

Additionally, Mayo founded and previously served as the general manager of the Dream Bat Bombers Player Development Baseball Program, which opened its doors in 2010. The Dream Bat Bombers are a hand selected group of high school players with an aspiration to play college baseball. The program is a year-round, wood bat baseball development club that is dedicated to player development and preparing high school players for the next level. Mayo was responsible for recruiting players for the program, managing and mentoring interns and coaches, scheduling, budgeting and fundraising, and the program's website and social media accounts.­­­­­­

Prior to his arrival at Trinity, Mayo was the lead assistant and pitching coach at Eastern Connecticut State (2014-16). The Warriors posted a two-year mark of 55-26 (.79 winning pct.) and earned the No. 1 seed in the NCAA Division III Baseball Regional in 2014, when his pitching staff was No. 12 in the country in earned run average (ERA). Mayo was instrumental in the recruiting efforts of American Baseball Coaches Association (ABCA) All-America pick Alex Zachary.

Mayo began his collegiate coaching career at Elms (2009), helping the Blazers advance to the New England Collegiate Conference (NECC) Championship game. The following year, Mayo moved on to Commonwealth Coast Conference affiliate Western New England, where he remained until 2014. The Golden Bears made four appearances in the NCAA Regionals with Mayo on staff, advancing to the College World Series in 2011. His staff allowed the second-fewest walks in the country in 2011.

Overall, Mayo's clubs have a combined win-loss record of 278-144 (.659 winning percentage).

From 2004-09, Mayo was both the pitching coach for the baseball team at Longmeadow High School, where he also spent time as the head coach of the freshman team (2004-07). He later was a bench coach on the USA Women's National Baseball Team (2012-14; 2016), accompanying them to the World Cup in South Korea in 2016.

Mayo earned his Bachelor of Science from Springfield College in 2003 and his Master's Degree in Education two years later. He was a Dean's List student from 2001-03 as well as a member of the Pride baseball program.